PCB Assembly Plant Equipment List
PCB Assembly Plant Equipments: 8 automatic SMT equipment lines, Hitach screen printer, Fuji NXT-ii SMT machines, Fuji XPF-L module SMT machines, X-Ray machine, BGA inspection.
FUJI XPF-L Modules SMT Machines
FUJI NXT-II Modules SMT Machines
3D SPI (Soder paste testing inspection)
• High precision, speed and stability
• High identification position system
Applicable to the production
• PCB Size(LxW)mm
Min 50×50~Max 330×250
PCB Thickness:0.4 ~3.0mm
Stencil size(LxW)mm: 650×550
FUJI XPF-L Mounting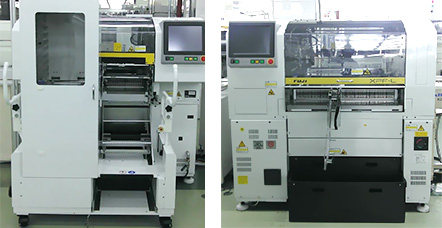 FUJI NXT II  Mounting
High precision, speed and stability
High recognized position system
Daily production capacity can reach 1.05 million points
Be applicable to the production:
PCB Size(LxW)mm
Min 48×48~Max 534×510
PCB Thickness:0.4 ~3.0mm
Specifications for SMT components:
QFP, TQFP, BGA, QFN PLCC, SOT, SOIC
(Pitch 0.3mm)
1005、0201、0603、0402
3216、  2125、  1608、
Please note that this is not an exhaustive list, and our PCBA plant may have additional specialized equipment and tools to cater to specific project requirements. C-Alley is committed to maintaining state-of-the-art equipment to ensure efficient and high-quality PCB assembly processes.